I
nstant noodles are great when it comes to late night supper. It's also quick fixes to the growling tummies when we are at our 'Lounging Around Moments'! That's why we will always make sure that we will not run out of stocks in this category.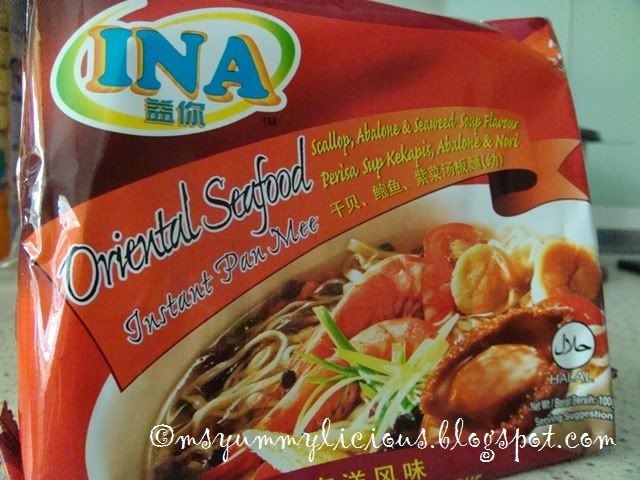 While my hubby and i were doing our groceries recently, we saw this new product - INA instant noodles on shelves. They looked quite appetizing but the price is abit on the high side. A
packet of 5
cost you approx.
RM15 RM11
. If on normal occasion, we would not buy it. But that day, we were in our 'Support Local Products' mood, so we bought a packet home. There are 5 individual packets in assorted flavors; Oriental Seafood Pan Mee, Original Pan Mee, Sambal Udang Pan Mee Goreng, Yee Mee and Tomyam Ramen.
We tried the Oriental Seafood Pan Mee. Cooking time was abit longer than my usual 4 mins. It took me almost doubled the time to ensure that the pan mee noodles are cooked thoroughly. Taste was bland. Noodles were unevenly cooked because some strands were too thick. We were filled with remorse after tasting the noodles. Should have bought 4 cups of Nissin Seafood Noodles instead!

First Commenter...+/-